Many of us can agree that there is nothing better than escaping the distractions of everyday life and spending quality time with our loved ones in the tranquility of nature. That's why an old-fashioned camping trip is an absolute must every once in awhile. If you're looking for the perfect place to rough it with your family, we highly recommend spending a night or two in Unicoi State Park. This popular haven, located within the Blue Ridge Mountains of North Georgia, is filled with a variety of campsites and activities for all of you to enjoy together. Sound perfect? Here is everything you need to know about Unicoi State Parking camping!
During your Unicoi State Park camping trip, you won't want to miss exploring the Bavarian-inspired village of Helen! Request your free copy of our Vacation Guide to find all the best local activities and attractions for your itinerary.
General Unicoi State Park Camping Information
Throughout the year, visitors are welcome to camp within Unicoi State at any of the designated campsites. All of the campsites are located in the northeastern section of the park. To check in, you'll need to stop by the Unicoi State Park camping office before you set up your site. On the day of your departure, you must vacate your site by 1 p.m. If you would like to make a reservation (highly recommended during the summer season), you can claim your spot anytime on the Georgia State Parks website. Dogs are welcome on campsites, but they must be kept on a 6-inch leash at all times.
Unicoi State Park Campsites
Little Brook Spur and Laurel Ridge
This small camp loop with space for RV's and tents. Each campsite has water, electricity, a fire ring, and a picnic table. No more than 6 people are permitted at each site.
Hickory Hollow
Hickory Hollow is a walk-in tent campsite with fire rings and picnic tables. Water is also available at every third site. This camp also has a 6-person limit.
Big Brook RV
This area accommodates RVs and has full hookups at each site. Fire rings and picnic tables are also available.
Unicoi State Park Squirrel's Nest
This campsite is perfect for individual or group camping. It consists of numerous platforms located on a steep hillside. Each of these platforms is covered, so there will be no need for a tent. A flat area at the bottom of the hill is where you'll find a large fire ring, BBQ grills, a picnic area, and water. Bathrooms are located within a short walk of the campsite.
Camping Supplies
The Trading Post is a small shop within Unicoi State Park that sells camping supplies. If you forget anything at home, no worries! The Trading Post has everything you need for a successful camping trip including fishing supplies, firewood, ice, books, snacks, drinks, and more!
Make Your Trip Even More Memorable With Pinnacle Cabin Rentals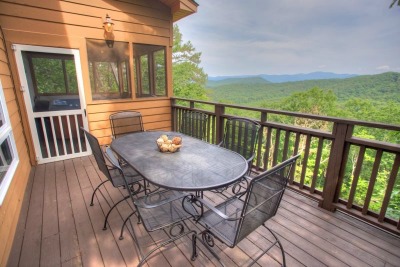 After your Unicoi State Park camping trip, treat yourself to a few nights of luxury in our beautiful Helen, GA mountain cabins. Our desirable vacation homes come in many sizes, features, and locations. That way, you're sure to find the one that is perfect for you and your family! In addition to beautiful cabins, our guests also enjoy quality customer service and access to exclusive vacation specials. Ready for the family vacation of a lifetime?
Book your favorite cabin today and let's get started on planning your most epic mountain getaway yet!
If you haven't already, don't forget to download your free copy of our Helen, GA Vacation Guide! It's filled to the brim with great ideas for your family getaway.