Imagine roaming along hemlock-strewn paths with a spectacular mountain view greeting you at every turn. This is the experience you'll enjoy while horseback riding in the North Georgia mountains. There are many options for fun and family-friendly horseback riding in Helen, GA, but one of the most popular is through Chattahoochee Stables. Whether you are an avid rider or have never even touched a horse in your life, you're sure to enjoy your journey with this nearby stable.
Find Chattahoochee Stables and more local attractions by downloading our free Helen, GA Vacation Guide! Within its pages, you'll also find great recommendations for North Georgia dining, shopping, recreation, and more.
More About Chattahoochee Stables
Since 1987, Chattahoochee Stables has been creating family memories through fantastic horseback riding near Helen, GA. They offer guided trail rides through the North Georgia mountains all year-round, so you'll always have an opportunity to visit! Also, their beautiful horses are consistently trained for their guests' safety and peace of mind.
The Ride With Chattahoochee Stables
Chattahoochee Stables offers visitors a one-hour trail ride that begins every hour on the hour. This guided adventure meanders for 3.5 scenic miles alongside the Chattahoochee River. Along the way, you'll experience breathtaking mountain views, luscious valley scenery, and a one-of-a-kind "river ride." It's an adventure you and your family will be talking about for years to come!
While reservations are not required, they are strongly suggested at least a day beforehand as their tours book up quickly.
How to Reach Chattahoochee Stables
If you're coming from Helen, GA, you'll exit the village and drive towards Cleveland. About a mile away, turn left onto Highway 17 and go on for about 2.5 miles. You'll find Chattahoochee Stables on the right!
More Horseback Riding in Helen, GA
Ready for more family adventure? You're in luck! As part of the Sunburst outdoor adventure company, Sunburst Stables in Clarkesville, GA offers guided tours on nearly 4,000 acres of beautiful mountain trails. There are 5 incredible rides to choose from, each leading to its own unique destination. That way, you'll never have the same experience twice! Check out their website now to find the adventure that is perfect for you and your family.
Enjoy the Vacation of a Lifetime With Pinnacle Cabin Rentals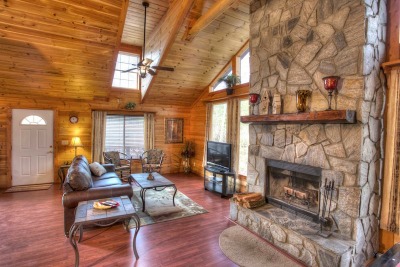 Even after your horseback riding journey, there is still so much to discover in Helen, GA! Our beautiful cabin rentals not only give you a luxurious place to stay, but also situate you just minutes from all there is to experience in Helen! Our cabins boast amenities you won't find in other local accommodations and have hosted family vacations that will always be remembered. Now it's your turn!
Find your perfect cabin with us today! If you haven't already don't forget to download our Free Helen, GA Vacation Guide for all the best local recommendations!