With some of the finest grape-growing soil in the world, it's no wonder North Georgia has grown to become a thriving wine community. If you're searching for the holy grail of wineries during your visit to Helen, GA, you may want to consider Frogtown Cellars! Known as North Georgia's premier winery, this highly respected vineyard has achieved recognition and acclaim from international wine critics, writers, and judges. Gather your friends and raise your glasses at this must-visit winery in the North Georgia mountains!
Find more local wineries like Frogtown Cellars and more in our downloadable Helen Vacation Guide! This handy tool will help you plan the ultimate getaway to the mountains of North Georgia, and it's completely FREE!
About Frogtown Cellars Near Helen, GA
Frogtown Cellars is quietly nestled on a 57-acre vineyard in the scenic mountains of North Georgia. The area was carefully chosen for its quality wine grape production and outstanding views. Since its opening in 1998, the winemakers have become outspoken leaders in the promotion and education of fine wines and its consumption. They are also potentially the most awarded winery in the Unites States outside of California's Napa Valley. From the moment you arrive at this breathtaking vineyard, it won't be difficult to understand why!
4 Reasons You Must Visit Frogtown Cellars
Their Winemaking Philosophy
Frogtown Cellars grow their grapes and produce their wines based on strict "French rules" that guarantee completely dry and high-quality wines each time. These rules state that the combination of unique characteristics such as geography, geology and macro, meso, and microclimatic conditions will not be mixed with other locations. Their premium selections are so delicious, they are worthy competitors of wineries and vineyards from all over the world, including Europe.
The Wine
The winemaker's passion to create delicious and premium wines is evident in each and every glass you'll taste at Frogtown Cellars. Whether you tend to favor red wines, white wines, or dessert selections, you're sure to find your new favorite! Take a look at their extensive wine menus and discover which ones best suit your tastes:
Tasting Rooms
You're invited to relax on the porch or deck with an indulgement glass of wine before stunning vineyard views at Frogtown Cellars. The unique architecture, warm atmosphere, and lovely 3-acre lake also make visiting the winery a one-of-a-kind experience. You'll also find another tasting room at their Hahira location!
Bistro Cafe
Not only is Frogtown Cellars home to incredible wines, but it's also where you'll find delectable food options! Pair your favorite wines with selections like a fruit and cheese plate or warm panini from the on-site Bistro Cafe! It's the ultimate lunch spot that you and your friends or significant other will want to return to again and again.
More Helen, GA Wineries to Add to Your List
Frogtown Cellars is just the beginning! Be sure to leave room for these fantastic local wineries on your itinerary.  They're every wine lover's dream come true!
Explore the Georgia Wine Country During Your Stay With Pinnacle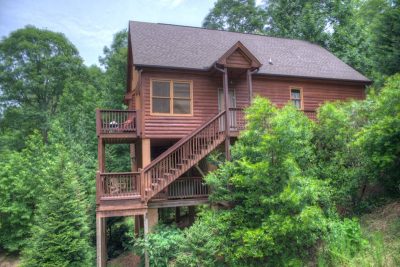 As one of the nation's prime locations for growing grapes, North Georgia produces some of the best wines in the region. Experience all of the delectable flavors and more with Pinnacle Cabin Rentals. Our luxurious mountain cabins are your perfect home base during a North Georgia getaway. Not only will you receive unparalleled customer service, but you will also enjoy convenience to all of Helen's activities and attractions.
Find your perfect home-away-from-home with us today or contact us for more information about your dream vacation.
If you haven't already, don't forget to download your free copy of our Helen, GA Vacation Guide! It's filled with great recommendations for local dining, shopping, attractions, and more.