For many of our visitors, the best way to relax and enjoy the Helen, GA area is by indulging in some retail therapy. If you are one of these travelers, you're in luck! Helen is home to many fascinating and unique shops, none of which you'd find in your typical mall. Whether you're looking for the next addition to your wardrobe or the perfect souvenir to commemorate your trip, here are just some of our favorite places for shopping in Helen, GA!
Find even more great spots for shopping in Helen, GA and other local activities by requesting your free copy of our Vacation Guide! It's filled with only the best recommendations for things to do during your visit including attractions, entertainment, dining, and more.
5 Places to Enjoy the Best Shopping in Helen, GA
Alpine Village Shoppes
The Alpine Village Shoppes in Helen, GA is the closest thing you'll find to a mall in our Bavarian village. Boasting German-inspired architecture and a variety of unique stores, this center is your one-stop-shop for everything you may need. From resale stores to restaurants, the Alpine Village Shoppes really has it all!
Nora Mill Granary and General Store
One of the most popular shops in town is the Nora Mill Granary and General Store. This granary is one of the few working grist mills in Georgia and is stocked with thousands of items that you'll hardly be able to resist! Particular favorites include freshly ground grits and cornmeal, jams, syrups, cast-iron skillets, and old-fashioned candles. This is also a great place to find interesting local recipes you'll want to try in your own kitchen!
Old Sautee Store
Since 1872, the Old Sautee Store has been the go-to place for locals and visitors alike to find quality merchandise and country hospitality. You will be warmly welcomed by the friendly staff and discover a wide variety of products that you won't  find anywhere else. Each product in the Old Sautee Store has been very carefully selected for uniqueness, quality, and affordability. Not only will you find great souvenirs, but you will also have the chance to buy time-tested merchandise and edible goods. While you're there, don't forget to take a look at the on-site museum and deli shop!
Mark of the Potter
North Georgia boasts a thriving arts culture, and hand-crafted pottery is no exception! Located just 15 minutes away in Clarkesville, Mark of the Potter gives you the chance to see potters in action and discover the perfect pieces to take home with you. Whether you foster a deep appreciation for art or are simply searching for a great gift, this is the place to be!
Lindenhaus Imports in Helen, GA
Known as one of the best Downtown Helen, GA shops, Lindenhaus Imports is a must during your shopping excursion! The family-owned business has served the Helen community for over 20 years and is dedicated to helping you find beautiful treasures. Just some of the items you'll find on the shelves include authentic German cuckoo clocks, nesting dolls, toys, and other items from around the world.
Rest Your Feet at Your Own Pinnacle Cabin Rental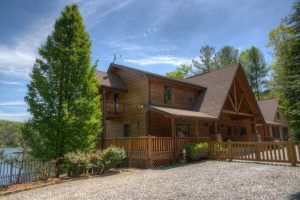 With so many places to shop, eat and explore, you'll hardly be able to do it all in one day! That's why we invite you to stay with us in one of our luxury mountain cabins and turn your visit to Helen into the vacation of a lifetime. In addition to high-quality cabin rentals, our guests also enjoy unparalleled guest services and convenience to their favorite local attractions. That way, you can plan the vacation that is ideal for nobody else but you and your family. Ready for the ultimate getaway to the North Georgia Mountains? Book your favorite cabin with Pinnacle today! We look forward to welcoming you soon!
If you haven't already, don't forget to claim your free copy of our Helen, GA Vacation Guide! This handy reference is filled with all the best recommendations for local activities, shopping, dining, and more!