When you're in need of a vacation, you literally have millions of destinations to choose from! However, there is something about an escape to the mountains that rejuvenates your soul and stays with you forever. The mountains of North Georgia are the perfect place to find peaceful relaxation, an abundance of outdoor activities, and make memories that will last a lifetime. Here is everything you need to know about our Georgia mountain getaways and why Helen has become one of the most visited towns in the region!
Planning your next Georgia mountain getaways? We can help! Download your free copy of our Helen, GA Vacation Guide right now for a full list of the area's top attractions, activities, dining, and more.
More About Helen, GA
Nestled in the Blue Ridge Mountains, the Bavarian-inspired village of Helen, GA has become a favorite for vacationers all over the nation. The village's authentic German architecture, abundance of dining options, and unique attractions keep you busy all day long. Plus, the area is rich with Appalachian history, outdoor activities, and jaw-dropping mountain views. The longer you stay, the more you won't want to leave!
4 of the Most Fun Things to Do in Helen, GA
Explore Downtown
Downtown Helen is a re-creation of an authentic Bavarian village and has become one of Georgia's most visited destinations. In addition to admiring the German-style architecture, you and your family can enjoy some of the best Helen, GA restaurants and shopping in the downtown area. Don't forget to bring your cameras! You'll want to capture all of the incredible memories you'll make in our Alpine village.
Visit a Local Winery
The soil in North Georgia is very similar to soils found in Italy. This means we grow a number of succulent European grapes for our delicious wines. Of course, they are given a special Georgia mountain twist to make them more unique. Discover the wide collection of Helen wineries and taste for yourself why North Georgia is recognized as one of the best wine-producing regions in the nation.
Hike to the Waterfalls
There are several incredible waterfalls in these mountains, and hiking to them is by far one of the top things to do in Helen, GA. From the beautiful Anna Ruby Falls to the historic DeSoto Falls, you'll hardly be able to discover them all in just one trip! This is also a grand opportunity to go hiking through the mountains of North Georgia and explore the region's natural beauty.
River Tubing
During the warmer months, river tubing is a very popular outdoor activity in Helen, GA! On a hot summer day, take a leisurely ride through the refreshing waters of the Chattahoochee River and explore the mountains from a completely new vantage point.
If the weather is chilly, do not fret! There are some great snow tubing opportunities on nearby Snow Mountain and Scaly Mountain.
The Best Georgia Mountain Getaways Await With Pinnacle Cabin Rental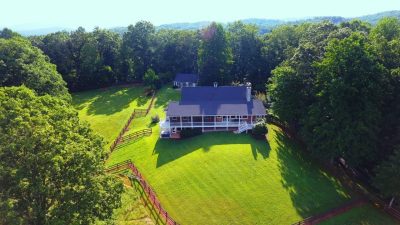 Whether you're searching for romantic cabins in Georgia or epic family retreats, Pinnacle Cabin Rentals has everything you need for the mountain vacation of a lifetime! Our North Georgia luxury cabin rentals are filled with everything you need for a comfortable stay. You'll also enjoy spectacular guest services and convenience to all of your favorite local Helen attractions! What more could you ask for?
Plus, our variety of vacation specials allows you to enjoy more for less during your Georgia mountain getaways! So what are you waiting for? Book your next escape with Pinnacle Cabin Rentals today! We look forward to seeing you soon.
Photo Credit: lewinmg/Getty Images