Known as Enotah to the Cherokee people, Brasstown Bald is officially the highest peak in Georgia. It rises nearly 5,000 ft. above sea level and provides some of the most stunning views in the region. If you'd like to feel as if you're standing on top of the world during your stay in Helen, a visit to Brasstown Bald is in order! Here is everything you need to know about your journey to the peak and how to get the most out of your experience.
Interested in more local attractions like the highest peak in Georgia? Then you won't want to be without our free Helen, GA Vacation Guide! It's filled with all the best recommendations for things to see, do, and experience during your stay with us.
More About Brasstown Bald in Georgia
Located near Blairsville, GA, Brasstown Bald is a stop on all in-the-know tourists' itineraries. Its picturesque location provides some of the most incredible views of the region, especially during the fall when the mountains become a bright palette of autumn colors. Its high altitude provides visitors with refreshing temperatures, even during the middle of summer, and outlooks so vast that you can see four states!
4 Things to Do at the Highest Peak in Georgia
Hiking
The most popular activity at Brasstown Bald is embarking on a hiking journey to the top! The Brasstown Bald hike is a steep, paved trail that begins at the Visitors Center and leaders travelers all the way to the peak. Altogether, the journey is approximately 1.2-miles (roundtrip) with plenty of stopping points along the way. Although many hikers would say the trail can be difficult at times, the multiple resting spots make it bearable for beginners and the reward from the top is well worth it! If the hike seems like it may be too strenuous, no worries! Brasstown Bald also provides a shuttle service to and from the peak.
Don't forget to explore the multitude of other hiking trails near Helen, GA! They're perfect for a quick excursion or a full day trip in the North Georgia wilderness.
Sightseeing
Once you reach the Observation Tower at the top of Brasstown Bald, prepare to pick up your jaw from the ground! On clear days, you'll enjoy 360-degree panoramic views of the Chattahoochee-Oconee National Forest. Telescopes are also available on-site for visitors who want a more up-close look at the scenery. Even on overcast days, you'll enjoy beautiful scenes of cloud-laden mountains and fog dancing across the peaks. Don't forget your cameras! You won't want to miss the opportunity to snap photos from the top of Georgia!
Visitors Center
At the base of Brasstown Bald, the Visitors Center provides plenty of activities for visitors to enjoy. Exhibits on local culture, geology, wildlife, and more can be viewed here as well as local relics like a small locomotive that was used during Georgia's glory days of train travel. You can also take part in various presentations about forestry in North Georgia. It's a great way to learn more about the area and develop a new appreciation for the mountain's natural state.
Mountain Biking
Many cyclists opt to take the challenging journey from Helen, GA to the highest peak in Georgia. This exciting day trip is a smooth ride through Unicoi with plenty of demanding obstacles that will challenge even the most avid bikers. Along the way, you'll be introduced to awe-inspiring views of the mountains that demand your attention.
Interested in more local bike trails? Here are some of our favorite places for an exhilarating mountain bike adventure in Helen, GA!  
Immerse in the Beauty of North Georgia During Your Stay With Us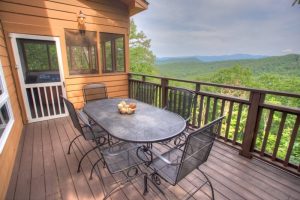 Helen, GA is a one-of-a-kind vacation destination with a charming Bavarian village and surplus of outdoor activities. You're invited to discover it all and create your own adventure when you stay with Pinnacle Cabin Rentals! Our luxury mountain cabins surround you with the natural beauty of Mother Nature while providing all the amenities and guest services you desire. Not to mention you'll also be just minutes from downtown and local state parks! Ready for the vacation experience of a lifetime? Find your favorite cabin and book your next family getaway today!