Biking is a great way to stay active and explore the local area during your vacation in North Georgia. Plus, it's tons of fun for the whole family! As the weather begins to grow warmer, more and more bikers will flock to the bike trails in search of their next adventure. Whether you are looking for a leisurely ride through the mountains or an exhilarating downhill trek, you'll hardly do better than these North Georgia mountain bike trails!
Find even more bike trails in Georgia and other ways to enjoy the great outdoors when you download your free copy of our Vacation Guide! This handy planning tool is delivered straight to your inbox within minutes and will help you find all the best Helen, GA activities and attractions that you won't want to leave off your itinerary.
5 of the Most Fun Bike Trails in Georgia
1. Mountain Bike Trail in Unicoi State Park
This seasonal 7-mile loop trail will be re-opens to the public each spring. The Mountain Bike Trail is built on an old, winding roadbed, so it's recommended for more experienced riders. In fact, it has been used several times for biking racing events due to its NORBA design. Avid bikers can expect uphill climbs, downhill slopes, long stretches of challenging track, and plenty of stunning views. No wonder it's recognized as one of the most exciting mountain bike trails in Georgia! Please keep in mind that there is a $2 fee to ride!
2. Smithgall Woods State Park Trail
The Smithgall Woods State Park Trail is a great family-friendly ride thanks to its relatively easy terrain. However, there are some points you may have to push your bike for a short distance. The road is half paved and half gravel, and it winds along gurgling trout streams and crosses over a covered bridge. The paths are also wide so you and your family can ride side-by-side!
3. Jasus Creek Mountain Bike Trail
For a quick and easy ride brimming with scenery, this is the trail for you! Jasus Creek is surrounded by the beautiful Chattahoochee forest, so you're bound to discover jaw-dropping views along the way. Though absent of adrenaline-pumping moments, the trail is ideal for beginner bikers, families, or those seeking a relaxing ride through the mountains.
4. Tennessee Divide
The Tennessee Divide Trail is the best of both worlds! The 25-mile journey is filled with challenging stretches and easy-to-ride paths, so both beginners and biking experts will enjoy the adventure! The trail begins with an expedition up Trey Mountain and continues down the Indian Grave Gap road and through the Unicoi Gap. As you ride, you'll discover stunning natural beauty, small waterfalls, gentle rivers, and more!
5. Helen to Hardman Heritage Trail
Helen to Hardman Heritage Trail is the newest addition to the collection of North Georgia mountain bike trails. The approximately 2-mile long trail was constructed in 2017 and designed to showcase the region's natural beauty. Bikers and hikers alike can begin their journey in Helen and follow the path along the Chattahoochee River. Once you arrive at Hardman Farm State Historic Site, you'll be able to enjoy a wide variety of activities including a guided tour of the estate or exploring the gazebo-topped Indian mound. The Helen to Hardman Heritage Trail is 8-10 feet wide with a hard concrete surface, allowing for anyone to easily enjoy the experience.
Your Next Adventure Awaits With Pinnacle Cabin Rentals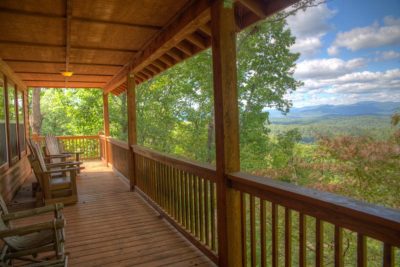 Whether you're navigating the bike trails in Georgia or wandering the streets of the Bavarian-inspired village, there's no place to escape reality quite like Helen, GA. You're invited to discover it all and create your own adventure when you stay with Pinnacle Cabin Rentals! Our luxury mountain cabins surround you with the natural beauty of Mother Nature while providing all the amenities and guest services you desire. Not to mention you'll also be just minutes from downtown and local state parks! Ready for the vacation experience of a lifetime? Find your favorite cabin and book your next family getaway today!