Your wedding day is one of the most magical and memorable days of your life. When planning your special day, choosing where you'll be exchanging your vows is one of the most important steps. If you're searching for a beautiful and unique mountain destination, look no further than these awe-inspiring North Georgia mountain wedding venues. We guarantee they'll set the stage for a wedding day that you and your guests will never forget.
In addition to Georgia mountain wedding venues, we have other recommendations for your bridal party. A great tool to have on hand is our Helen, GA Vacation Guide. Not only is this guide free, it is also filled with great suggestions on local activities and attractions for your guests to enjoy during your stay.
5 of Our Favorite Georgia Mountain Wedding Venues
1. Anna Ruby Falls
Located in Chattahoochee National Park, Anna Ruby Falls is one of the most naturally beautiful outdoor wedding venues in North Georgia. You and your beloved will say, "I Do" right in front of a stunning waterfall backdrop. Also, the two creeks uniting together to form the dazzling cascades are perfect representations of two lives becoming one. Visit the Waterfalls Wedding Experts site to learn more about an Anna Ruby Falls wedding and to make your reservations today!
2. Neverland Farms
This upscale outdoor wedding venue is one of the state's most talked about, and for good reason! Neverland Farms is a full-service wedding venue in which love is stitched into every detail. You and your sweetheart will enjoy your choice of indoor and outdoor wedding spaces and assistance with planning every step of the way. They even provide their own DJ, beer, wine, champagne, and on-site catering. You'll hardly have to lift a finger!
3. Blue Mountain Vineyards
Blue Mountain Vineyards is one of the most romantic wedding venues in Dahlonega, GA. The gorgeous vineyard set in the heart of the Appalachian mountains naturally provides all the charm and rustic elegance you desire for your wedding day. You'll also have access to the vineyard's 5,000 square foot barn complete with 30-foot ceilings, a hand-lain stone fireplace wall, and spectacular mountain views.
4. Ruins at Kellum Farm
In 1922, the wealthy Kellum family fell in love with a beautiful piece of property in the North Georgia Mountains. They purchased the land and it became known as Kellum Valley. This historic site is a perfect place to say "I Do" and leave a lasting impression on your guests. It's one of the most unique small wedding venues in North Georgia with southern charm and incredible mountain views. This venue has won Best of the Knot three years in a row, and it is easy to see why. The staff is incredible and sure to leave no detail overlooked. The site can be viewed by appointment only. There is also an inquiry online to see if your date is available!
5. Frogtown Cellars
With a stunning lakeside pavilion and a relaxed atmosphere, Frogtown Cellars is one of the top must-see Georgia mountain wedding venues! Whether you're hosting a small and intimate celebration in the tasting room or a waterside ceremony with all of your friends and family, you and your guests will be wowed by the venue's elegance and luxury. Plus, the culinary staff will prepare specialty foods for all of your events!
Interested in even more wedding venues in Georgia? Check out our list of beautiful venues near Helen, GA that you won't want to miss.
Accommodate Yourself and Guests With Pinnacle Cabin Rentals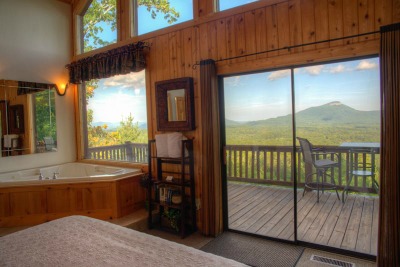 Once you've found your favorite Georgia mountain wedding venues, it's time to find a spot to accommodate your friends and family! Experience the beauty and excitement of the North Georgia Mountains during your stay with Pinnacle Cabin Rentals. You will be able to choose from dozens of beautiful cabins located just outside of Helen, GA. You will be treated like royalty with our unparalleled customer service. There is also so much to see and do in the nearby Bavarian-inspired village you'll need several days to experience it all! Don't forget to reserve a space at our cabins for out of town guests and the bridal party. We do hope that you will choose to stay with us at Pinnacle Cabin Rentals. Your dream wedding awaits!