Although California receives most of the glory for the days of the gold rush, many visitors are surprised to learn that Georgia was also a prime spot to find gold during the 1800s. In fact, you can still claim a bit of Georgia's treasure for yourself during your next visit to Helen!  If you've got a case of gold fever, you're invited to put your mining skills to the test at these fun hot spots for gold panning in Georgia.
Planning a visit to Helen, GA soon? Then you won't want to be without our free Vacation Guide! This handy vacation planning tool is filled with all the best recommendations for local attractions, outdoor recreation, dining, and activities like gold panning in Georgia.
3 Places to Enjoy Public Gold Panning in Georgia
1. Gold'n Gem Grubbin
As North Georgia's only commercially operating historic gold mine, Gold'n Gem Grubbin provides an experience unlike any other. This family-friendly attraction transports you on a journey back in time to the days of the 1800's gold rush. You'll feel just like the miners who traveled miles in search of riches as you pan for gemstones and gold in Georgia streams and rivers. You may also use the convenient sluices to discover if you are lucky enough to find gold, rubies, emeralds, and even old Georgia artifacts!
2. Dukes Creek Gem & Mining Co.
At Dukes Creek Gem & Mining, everyone takes home treasure! Whether you're in search of gold, rare Earth gems, or even prehistoric fossils, you'll have the chance to find what suits your fancy. There is also a helpful and knowledgeable staff available to help you identify what you find and evaluate their value. Your family will love this adventure surrounded by the beauty of the Alpine mountains.
3. Crisson Gold Mine
If you're willing to travel 30 minutes outside of Helen, the Crisson Gold Mine experience is well worth the journey! The open-pit gold mine was established in 1847, making it the oldest gold mining establishment in North Georgia. Previous guests have found significant amounts of gold, large rubies, rare crystals, and much more! During your visit, be sure you see the old Stamp Mill that was used to crush gold-bearing rock into sand. It is the only original working Stamp Mill in the state of Georgia and one of the two still existing in the Southeast.
Discover the Riches of an Unforgettable Getaway to North Georgia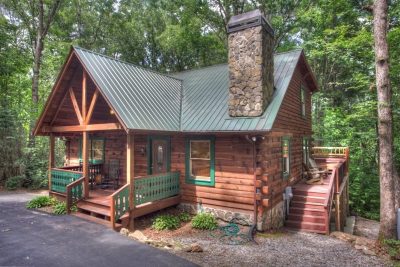 The best way to experience Helen, GA is by staying in one of our luxury vacation cabin rentals! Unlike most local hotels, you'll enjoy all the space and convenience you enjoy at home right in the heart of the mountains. Many of our cabins are just minutes from the best hiking trails and many other attractions you'll want to visit during your Helen getaway. You will also enjoy impeccable guest services that take care of every small detail for you from the beginning of your trip all the way to check out. Find your perfect vacation cabin today or download our free Vacation Guide to start planning your next mountain vacation.