Our Bavarian-inspired village in the North Georgia Mountains boasts a full calendar of exciting events throughout the year. However, the most popular and highly anticipated of them all is undoubtedly the Helen, GA Oktoberfest! This is the nation's longest-running Oktoberfest celebration and brings the German culture to life with traditional dancing, music, activities, and of course, lots and lots of beer! Here is what you need to know about the Helen, GA Oktoberfest and what to expect at this year's event.
Interested in more events like the Helen, GA Oktoberfest? Then you'll want to download your free copy of our online Vacation Guide! This handy vacation planning tool is filled with all the best recommendations for things to see and do in our area including annual events, dining, local hiking trails and waterfalls, shopping, and more. Request your free copy today and let's start planning your dream getaway.
What to Expect at the Helen, GA Oktoberfest
Now in its 48th year, the Helen, GA Oktoberfest is our town's largest celebration and the perfect way to kickstart the autumn season. In addition to a wide variety of flavorful beers to taste, you and your family and friends will be invited to participate in several activities including traditional Bavarian dancing, listening to live music by German bands, and the Helen Oktoberfest Parade.
Helen, GA Oktoberfest 2018 Schedule
The 48th Helen, GA Oktoberfest is scheduled to take place on Thursdays-Sundays from September 6th-23rd and then daily from September 27th to October 28th. Here is a look at the hours of operation:
Sunday: 1:00PM – 7:00PM
Monday: 6:00PM – 10:30PM
Tuesday: 6:00PM – 10:30PM
Wednesday: 6:00PM – 10:30PM
Thursday: 6:00PM – 10:30PM
Friday: 6:00PM – 12:00AM
Saturday: 1:00PM – 12:00AM
Ticket Information
Admission to the Helen, GA Oktoberfest is purchased on the day of the event. On Monday-Friday, prices are $8 per person. Saturdays are $10 per person and Sundays are free! Please keep in mind that food and drinks are an additional cost at this event.
More Fun Things to Do This Fall in Helen, GA
Attending Oktoberfest? Here are even more wonderful local activities and attractions that you won't want to leave off your Helen, GA itinerary!
Alpine Mini Golf Village
This Bavarian-themed mini golf course is the perfect addition to your Oktoberfest festivities. Shoot for a hole-in-one on this beautifully landscaped 18 hole course. Afterward, you'll want to try a sweet treat from their on-site ice cream parlor!
River Tubing and Boating
Helen is a wonderland of outdoor activities, and enjoying North Georgia's rivers before the coming of winter is a must! You'll love floating down the river on your own inner-tube with Helen Tubing or Cool River Tubing. For canoe or kayak rentals, Wildwood Outfitters has just what you need for a full day on the water.
The Best Helen, GA Oktoberfest Cabins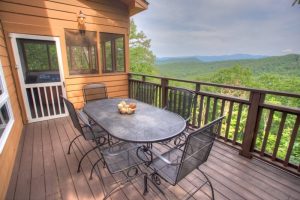 Need a place to stay for the event? We invite you to stay with us in one of our luxury vacation cabin rentals! Unlike generic Helen, GA hotels, our North Georgia cabin rentals provide all the homey amenities and privacy you desire in a memorable vacation. In addition to high-quality cabin rentals, our guests also enjoy unparalleled guest services and convenience to their favorite local attractions. That way, you can plan the vacation that is ideal for nobody else but you and your family. Ready for the ultimate getaway to the North Georgia Mountains? Book your favorite cabin with Pinnacle today! We look forward to welcoming you soon!