North Georgia is home to several stunning waterfalls, but one of the most popular in our area is Raven Cliff Falls. This 40-foot tall cascade flows right through an enormous rock formation in the middle of the lush woods. It truly is a sight to behold! If you'd like to see this enchanting site for yourself, here is everything you need to know about Raven Cliff Falls in Helen, GA and the best way to hike there!
Raven Cliff Falls in Helen, GA is just one of the many incredible attractions that you won't want to miss in our area. Before your stay in one of our luxury cabins, be sure to request your free copy of our Helen Vacation Guide! This handy vacation planning tool is filled with only the best recommendations for things to see and do including more local hiking trails, dining, entertainment, events, and more. It's the only thing you'll need to plan the ultimate getaway to our mountain paradise.
Hiking to Raven Cliff Falls in Helen, GA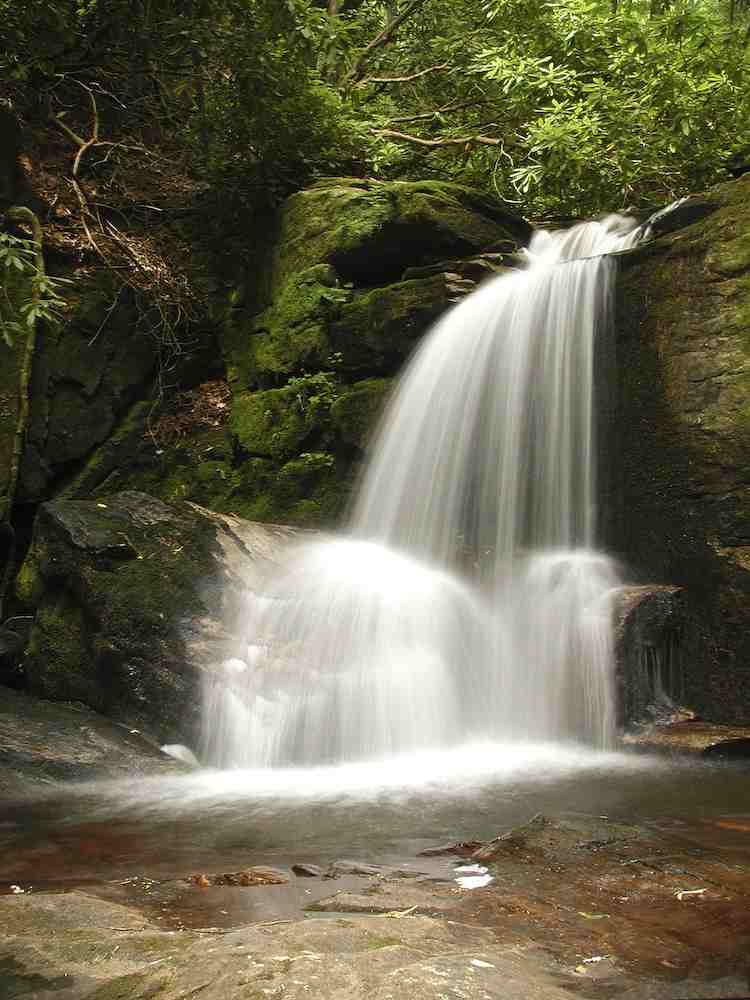 The entire trek to and from Raven Cliff Falls is approximately five miles, making it ideal for a full afternoon of hiking through North Georgia's stunning wilderness. The trail is also dog-friendly and fairly easy for beginners! While the waterfall itself is the trail's main attraction, hikers are delighted to find that there is plenty to admire along the way including lovely wildflower fields, smaller cascades, and gurgling streams. The trail's location underneath a canopy of trees keep the temperatures down and makes for an enjoyable experience, even during the summer months. It's an adventure that's bound to become one of the highlights of your Helen, GA getaway.
The Trail to the Falls
The hike begins at a gravel trailhead just outside of Helen, GA. From here, you'll gain elevation as you follow Dodd Creek upstream. At a quarter of a mile in, the trail will start to descend towards the creek. As you travel along, you'll come across a campsite and a small swimming hole that is popular with visitors during the warmer months. If you'd like to see more waterfalls during your hike, you'll want to follow the steeply-pitched side paths on the trail's left side.
As you get closer to Raven Cliff Falls, you'll begin to hear the sound of rushing water echoing through the forest.
Once the trail begins to gain more elevation and turns northwest towards the massive cliff, you should see the lower part of the falls. Upon arrival, you'll notice an enormous fracture in the large granite slab. The falls tumble through this fracture, feeding the cliff's moss-lined walls and overhanging lush. Now is your chance to sit back, enjoy the view, take photos, or enjoy a quick lunch before following the trail back to your car!
More Waterfall Hikes in Helen, GA
Can't get enough of chasing waterfalls? You're in luck! Here are even more popular waterfall hikes in Helen that we're sure you'll love!
Anna Ruby Falls
As one of the most popular trails in Helen, GA, the Anna Ruby Falls Trail is an absolute must for your North Georgia getaway! The pathway is completely paved and only .9-miles long, making it ideal for a quick excursion or family activity. Once you reach the falls, you'll be greeted by a pair of spectacular cascades falling into Smith Creek right beside each other. There are two viewing platforms available for viewing the falls and taking postcard-worthy photos.
Dukes Creek Falls Trail in Helen, GA
Dukes Creek Falls is composed of a 150-foot cascade that will surely steal your breath away! To get there, you must embark down a 2-mile trail that winds through a gorge and beautiful forests. At the end of the trail, you'll find wooden platforms that are made for resting your feet and viewing the falls. If you're still feeling energized, you may also continue down the trail towards the bottom of the falls for incredible photo opportunities.
Explore Our Mountain Wonderland During Your Stay With Us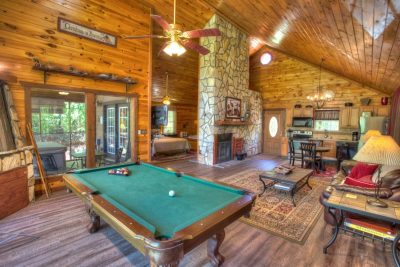 The best way to experience the great wilderness of Helen, GA is by staying in one of our luxury vacation cabin rentals! Unlike most local hotels, you'll enjoy all the space and convenience you enjoy at home right in the heart of the mountains. Many of our cabins are just minutes from the best hiking trails and many other attractions you'll want to visit during your Helen getaway. You will also enjoy impeccable guest services that take care of every small detail for you from the beginning of your trip all the way to check out. Find your perfect vacation cabin today and we can't wait to see you soon!