Located just south of Helen, Georgia, Hardman Farm is one of our area's most historic and photographed destinations. The estate allows visitors to take a step back in time and travel through centuries of North Georgia culture and history. Whether you're a history buff or looking for something fun and unique to add to your itinerary, this is it! Here's everything you need to know about Hardman Farms in Helen, GA so you'll have a better idea of what to expect during your visit.
Hardman Farm in Helen, GA is just one of the many historic sites and attractions to see during your stay with us. Request your free copy of our Vacation Guide and you'll instantly receive a full list of our area's top activities, restaurants, shopping, entertainment, and more. With this handy vacation planning tool in hand, you'll have access to all the information you'll need to enjoy the ultimate Helen, GA getaway.  
Hardman Farm History
Hardman Farms was built by Captain James Nichols in 1870. The home was a grand example of Italianate architecture and was even referred to as "West End" since it was located on the western end of the Nacoochee Valley. The farm's second owner was a successful businessman from Atlanta by the name of Calvin Hunnicutt. He and his family used the home as a summer retreat, and most of the furniture that you'll see in the home today was used by them! The final owner of Hardman Farms was Dr. Lamartine Hardman, Georgia's governor from 1927 to 1931. In 1999, the estate was lovingly preserved and donated to the state of Georgia as a historic site.
What You'll See at Hardman Farm in Helen, GA
1. Estate Tour
If you'd like to take a look at the inside of the home, then the guided estate tour is a must! These tours take place Thursday-Sunday on the hour from 10 a.m. to 3 p.m. During your tour, you'll be able to see the stunning 19th-century parlor, the home's original lighting, the bedrooms belonging to Anna Ruby Nichols (Anna Ruby Falls in Helen, GA was named after her), and an interesting climate control and telephone system.
2. Dairy Barn
The farm's original dairy barn was a staple of Nacoochee Dairy and operated from 1910 until the mid-1920s. As you explore the barn, you'll learn how the milk was processed and transported, see the spring house, and the former horse barn.
3. Unicoi Turnpike
Many visitors to Hardman Farm in Helen, GA are unaware that the tree-lined road leading from the Visitors Center to the estate is a remaining portion of the historic Unicoi Turnpike. While this route disappeared long ago, the former 200-mile trail ran from Toccoa to western North Carolina and eastern Tennessee. It was also used as a buffalo trail and a Native American trading route long before Hardman Farms even existed!
4. Sautee Nacoochee Indian Mound
This is by far one of the most iconic locations in Sautee Nacoochee. The Indian Mound is a gazebo-topped Indian mound and has been photographed numerous times for its mystery and beauty. It is believed to be the burial site of Sautee and Nacoochee, two Indian lovers whose romance was forbidden due to their separate tribes' ongoing feud. This is a popular Yonah Mountain legend that ended tragically when young Nacoochee threw herself off a cliff in order to be with her deceased lover. It's Helen's own Romeo and Juliet tale! Despite its significance to Native American folklore, the mound was also used as a ceremony site by the Cherokee Indians. The mound was placed on the National Register of Historic Places as a historic district, so stopping by to take a few pictures is a must!
5. Helen to Hardman Heritage Trail
This brand new biking and hiking trail was designed to showcase the region's natural beauty. Travelers can begin their journey in Helen, GA and follow the path along the Chattahoochee River to Sautee Nacoochee's Hardman Farm Historic Site. The trail is 8-10 feet wide with a hard concrete surface, allowing for anyone to easily enjoy the experience.
Escape to Our North Georgia Paradise With Pinnacle Cabin Rentals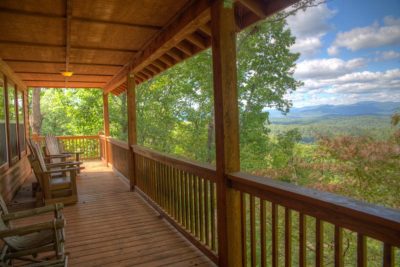 Helen, GA is a utopia for travelers looking to unplug from the day-to-day schedules and reconnect with their loved ones and the beauty of nature. We invite you to experience everything our one-of-a-kind destination has to offer by staying with us in one of our luxury vacation cabins!
Our beautiful rentals are perfect for family vacations and romantic escapes just minutes from the Bavarian village in downtown Helen. In addition to a one-of-a-kind cabin, guests will also be spoiled with unparalleled guest services and vacation specials you won't find anywhere else. Ready to embark on the best family getaway yet? Choose your favorite cabin with us today!