Helen, GA is abundant with outdoor activities that cater to a wide variety of visitors. Whether you're looking for a quick and leisurely adventure or a thrilling experience in the North Georgia Mountains, you won't be disappointed! If you're searching for an adrenaline rush, one of the best activities that we recommend is ziplining. It's the perfect opportunity to soar through the North Georgia wilderness and satisfy your inner adventurer. Here are some of our favorite spots to zipline in Helen, GA that you and your family won't want to miss!
Once you find the perfect spot to zipline in Helen, GA, it's time to start planning the rest of your trip. All you have to do is request your free copy of our Vacation Guide and you'll instantly receive a full list of all the best things to do in Helen, GA including outdoor activities, shopping, dining, entertainment, and much more. You'll have everything you'll need to plan the ultimate getaway with us right in the palm of your hands.
4 Places to Zipline in Helen, GA
1. Nacoochee Adventures
Nacoochee Adventures in Helen, GA is more than just an outdoor adventure company. They incorporate the history of the land into each excursion. So while you are soaring through the tree canopies and exploring the mountains, you'll learn all about the region's former Native Americans, the gold rush, moonshine makers, and more. Their zipline canopy tours are very popular and guarantee fun for the whole family! Here are the tours that you'll be able to choose from based on your needs and thrill levels:
Moonshine Canopy Tour
Big Zip Intimidator
Goldmine Canopy Tour
Big Bear Tour
2. Cool River Zipline
Ready to fly over the Chattahoochee River? Then the Cool River Zipline in Helen, GA is just what you're looking for! What makes this tour so unique is that the course boasts two aerial bridges and four lines. With two highly-trained guides to lead you every step of the way, you and your family are sure to embark on an adventure unlike any other!
3. Sunburst Stables
Featuring over two miles of cables and one exceptional tour, the Sunburst Zipline in Helen, GA is a favorite for many travelers. You'll enjoy a grand total of nine ziplines stretching over 7,000 feet. It's a great way to see some of the best sights in Helen, GA from a new vantage point! Their popular Sunset Tour is a two-hour adventure through the trees surrounded by twilight views of the local waterways and ridgelines.
4. Unicoi Zipline and Aerial Park
Brought to you by the industry leader in safe zipline equipment and construction, the Unicoi Zipline is ideal for your next family adventure! The aerial park features a zipline canopy tour, family-friendly challenge courses, a nature trek in the treetops, and of course, amazing birds-eye views of the North Georgia Mountains. You'll also be led by a team of experienced guides who will ensure your safety and answer any questions you may have along the way.  
Book Your Next North Georgia Adventure With Pinnacle Cabin Rentals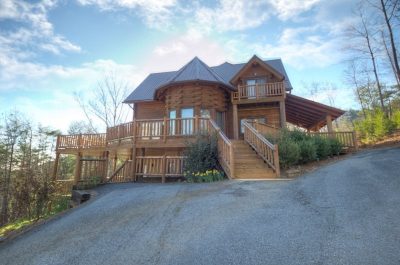 Helen, GA is a utopia for travelers looking to unplug from the day-to-day schedules and reconnect with their loved ones and the beauty of nature. We invite you to experience everything our one-of-a-kind destination has to offer by staying with us in one of our luxury vacation cabins!
Our beautiful rentals are perfect for family vacations and romantic escapes just minutes from the Bavarian village in downtown Helen. In addition to a one-of-a-kind cabin, guests will also be spoiled with unparalleled guest services and vacation specials you won't find anywhere else. Ready to embark on the best family getaway yet? Choose your favorite cabin with us today!