While river tubing is a popular Helen, GA summertime activity, there are still many places to enjoy a tubing adventure during the winter months! Snow tubing in Helen, GA may be scarce, but you'll find some of the best opportunities for this winter activity within an hour's drive from our Bavarian Village. Just to get you started, here are some of the most fun and popular places to enjoy snow tubing in the Georgia mountains.
With so much to see and do in Helen, GA, where do you even begin? Download your free copy of our Vacation Guide to find a full list of incredible activities and attractions you won't want to miss. It's the perfect way to find even more ways to enjoy your winter getaway beyond snow tubing in Helen, GA.
2 Places for Snow Tubing in Helen, GA
Snow Mountain
Located on Stone Mountain, this local park gives visitors the opportunity to enjoy some of the best snow tubing in Blue Ridge, GA. From late November to February, you can visit Snow Mountain, GA for snow-packed adventure spanning five football fields in size. Avalanche Alley is the park's 400-foot hill upon which families can fly down in a large inner tube. Memorial Lawn is where you'll find 10 tubing lanes designed for racing! The miniature snow hill includes a toboggan ride and a snow-tube carousel for the little ones. 
Another popular attraction at Snow Mountain is Snowman Valley! Here, you and your family can build a snowman and choose fun outfits for them from the "Snow Closet." The Snowball Shooting Gallery is yet another activity zone that takes the term "snowball fight" to a whole new level. With so much to do at Snow Mountain, you'll need a full day to experience it all!
Scaly Mountain
40-miles northeast of Helen, Scaly Mountain offers snow tubing year-round! Even during the summer months, artificial snow is laid out for tubing adventures the whole family will love. During the winter, take a "magic carpet" ride to the top of the mountain before flying down at high speed! Kiddie slopes are also available for smaller riders. That way, everyone in the family can enjoy a full day in the snow!  
The Ultimate Winter Getaway Awaits With Pinnacle Cabin Rentals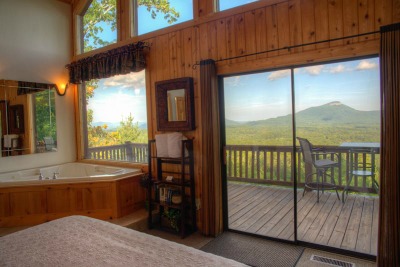 Make this winter escape one to always remember in the North Georgia mountains! Unlike typical Helen hotels, guests in our cabins will enjoy ample space, incredible mountain views, and a family vacation unlike any other. You will also be spoiled with unparalleled guest service and convenience to all there is to see and do in Helen. Our dedication to providing unforgettable experiences has made us one of the top vacation rentals in the area. We can't wait to make your visions of a perfect mountain vacation a reality.
Book your favorite cabin with us today and we hope to see you this holiday season!
If you haven't already, don't forget to download your free copy of our Helen, GA Vacation Guide! It's filled with great recommendations for local dining, shopping, entertainment, and much more.