These ideas are from the Romantic Itinerary on the Destination Wedding Planner on our website. These wonderfully romantic activity options for couples in the Helen, Ga area would also be perfect scenarios for The Big Moment. Guaranteed to be memorable. So without further ado, here are the top 5 places to pop the question:
#5. In a horse drawn carriage through the beautiful Sautee-Nacoochee Valley
Bring your favorite beverages and hors d'oeuvres, and enjoy an early morning or beautiful late evening sunset. These rides have some of the prettiest countryside in the area that guests often describe as spectacular! The carriages come in different sizes, be sure to request private and romantic.
#4, While taking a sunset Horseback Ride
Sunburst Stables offers guided mountain trail rides into the Chattahoochee National Forest during sunset. Ride to the highest mountain in the forest and stop for a meal while taking in the incredible sunset. The perfect time to get down on one knee.
#3. At the base of a waterfall
There are several outstanding waterfalls in the areas surrounding Helen, Ga offering you the perfect excuse to get out into our beautiful mountains and experience the majesty of nature. And provide you with a memorable backdrop for your most important event. Pack along a picnic with a blanket and flask of wine.
#2. During a sunrise on top of Brasstown Bald
Brasstown Bald is the highest point of Georgia at 4,783 ft. Though there is a 20 minute strenuous hike from the parking lot to the observation platform at the very top of the mountain, the 360 degree panoramic views are worth it. A proposal at the top of the world!
And #1. In a cabin in the mountains, of course.
On the deck, overlooking a phenomenal vista in a mountaintop cabin; sitting at the fireside in a romantic couples cabin; or while overlooking the Chattahoochee in a riverside cabin, take your pick of perfect locations. Need we say more? Guaranteed romance. And the timing – On the anniversary of your meeting one another, on Valentines or any holiday, or just because the time is right.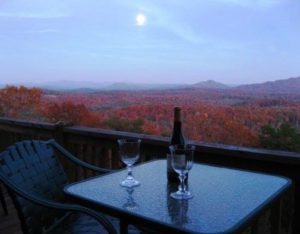 The perfect choice for creating memories that will last a lifetime..
Let Pinnacle Cabin Rentals provide you the perfect accommodations. Our romantic couples cabins offer luxury and romance; jetted spa tubs in the master bedroom, outdoor hot tubs, fireplaces and pool tables.  Located in gorgeous settings; they are the ideal spot to celebrate a magical stay.