There's no better way to behold the natural beauty and extensive history of the North Georgia mountains than a memorable ride on the Blue Ridge Railway! This journey through time lets you relive the glory days of train travel aboard an actual vintage railway car. Whether you're looking for a unique way to enjoy the Georgia scenery or an exciting family-friendly adventure, a trip on the Blue Ridge Railway is not to be missed!
Find more local attractions like the Blue Ridge Railway when you download your free copy of our Helen, GA Vacation Guide. This handy planning tool places all the best recommendations for local activities, entertainment, restaurants, and more right into your inbox instantly.
History of the Blue Ridge Railway
Railroads played a significant role in the development of the South between the 1800's and early 1900's. Not only did they contribute to small-town growth, but they saved a failing mining industry and determined the routes of roads. The original Blue Ridge Railway was built into Murphy, NC in the 1880's. Builders intended to stretch the line into Knoxville, but the plans changed as another route was made through the Hiwassee River gorge.
Beginning in 1896, the railroad was purchased by company after company and renamed several times. Some of these names included "Family Lines," "Seaboard System," and "CSX." By the 1980's, train travel in the region had been terminated, and the line was put up for sale again in 1990. A group of local investigators wanted to preserve the rail service into Georgia, and as a result, train rides in Georgia began operating once more. Beginning in 1998, the Blue Ridge Railway offered excursions for any and all visitors who wished to see the North Georgia Mountains in a whole new way.
7 of the Most Fun Blue Ridge Railway Rides
Travel into the "antique capital" of Georgia and experience why so many travelers have fallen in love with this region. Your journey will begin at a historic depot from 1905 and stops for layovers in McCaysville and Copperhill, TN. All aboard for these unforgettable rides that you absolutely must add to your vacation itinerary!
Spring Rides (March 10th – May 31st, 2018)
Add some fun to your spring break vacation! Spring train rides depart at 11 a.m. and take you on an awe-inspiring 26-mile journey along the stunning Toccoa River.  When you stop in the sister towns of McCaysville and Copperhill, you'll want to find a great place for lunch or explore the unique shops.
Easter Eggspress (March 31st, 2018)
This is an Easter egg hunt your family will never forget! Everyone of all ages is invited to embark on a leisurely 1-hour train ride to Farmer Brown's Field. Here, the kids will be able to embark on a fun-filled egg hunt and meet the Easter bunny himself!  It's a great way to make lifelong family memories you'll be talking about for years to come.
Summer Rides (June 1st – September 24th, 2018)
A summer train ride is a great way to beat the heat and take a relaxing ride in a climate-controlled or open-air rail car! You'll begin at the historic depot and continue towards McCaysville and Copperhill. It's bound to be one of your favorite summer vacation activities!
Firecracker Special (June 28th, 2018)
Get a front-row seat to the Copper Basin fireworks aboard the Firecracker Special! Guests will travel by train to Copperhill before stopping for the grand fireworks display. Don't forget to bring your lawn chairs!
Fall Foliage Rides (September 28th – November 12th, 2018)
Travel along the Toccoa River through a wonderland of vibrant fall colors! The enchanting fall foliage ride is a 4-hour journey departing at 11 a.m. sharp. You'll be delivered to the sister towns for a half-day excursion spent experiencing the beauty of the season.
Harvest Festival (October 28th, 2018)
Seats are in high demand for the Harvest Festival Train! Guests will be transported to the celebration in a farming field for a wide variety of activities and attractions including hot apple cider, cotton candy carts, and plenty of photo opportunities.
Santa Express (November 23rd – December 23rd)
This holly jolly daytime trip is a great way to kickstart your holiday season. Aboard the Santa Express, you'll listen to beloved Christmas stories and sing carols. You'll also meet your favorite holiday characters, and of course, Santa Claus himself! Each child will receive a traditional Blue Ridge Railway momento, a Christmas activity book, and a candy cane.
Book Your Next Adventure With Pinnacle Cabin Rentals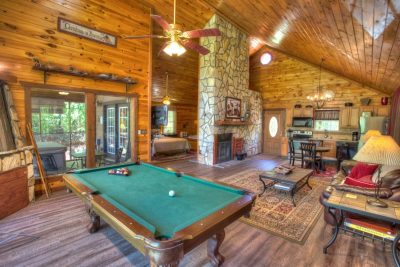 Whether you're taking a journey aboard the train rides in GA or exploring the Bavarian-inspired village, there's no destination quite like Helen, GA. With so many places to shop, eat and explore, you'll hardly be able to do it all in one day! That's why we invite you to stay with us in one of our luxury mountain cabins and turn your visit to Helen into the vacation of a lifetime. In addition to high-quality cabin rentals, our guests also enjoy unparalleled guest services and convenience to their favorite local attractions. That way, you can plan the vacation that is ideal for nobody else but you and your family. Ready for the ultimate getaway to the North Georgia Mountains? Book your favorite cabin with Pinnacle today! We look forward to welcoming you soon!
Photo Credit: Marjan_Apostolovic/Getty Images