While there are several exciting summer activities in Helen, GA, river tubing is without a doubt one of the most popular. When the sun is high and the air is warm, hundreds of visitors flock to the river for a leisurely ride on the rapids. If you want to add river tubing in Helen, GA to your own itinerary, here are the best places to go and more fun-filled summer activities that you won't want to skip.
Planning a summer getaway to Helen, GA? Request your free copy of our Vacation Guide right now and you'll instantly receive a full list of our area's top activities and attractions. From suggestions for outdoor recreation like river tubing in Helen, GA to local wineries and restaurants, this guide has it all!
2 Spots to Enjoy River Tubing in Helen, GA
1. Cool River Tubing
When you see the green floats gliding down the Chattahoochee River, you'll know they came from Cool River Tubing! This is the only tubing company in Helen that offers two ride lengths. You may choose to embark on the one-hour excursion or the two-hour adventure! Usually, they'll recommend which trip is best based on the water levels. They are always eager to make your day on the river a great one and the friendly staff is always available to answer any of your questions. While you're there, don't forget to check out the Cool River Zipline! It's another great addition to your summer itinerary and a fun way to explore the natural scenery of the North Georgia Mountains.
2. Helen Waterpark and Tubing
Known for their bright pink floats, Helen Waterpark and Tubing is unique in the fact that the experience includes a visit to their very own waterpark! After a relaxing ride along the river, you and your family will be invited to come back and enjoy four giant waterslides and a lazy river. Plus, river tubing in Helen, GA with Helen Waterpark is completely unlimited! Pay once and you can ride as many times as you'd like during your visit (same day).
More Summer Activities That You'll Love
There are so many more outdoor activities to experience in Helen, GA this summer! Be sure to include these family-friendly activities to your itinerary.
Horseback Riding: Explore the hemlock-strewn paths of the North Georgia Mountains by horseback! It's an adventure that everyone in the family is sure to love.
ATV Tours: If you're seeking an adrenaline rush, a local ATV ride through the rugged mountain terrain is sure to please!
Waterfall Swimming Holes: On a hot summer day, there's nothing more refreshing than a quick dip in the pools underneath a magnificent cascade.
Enjoy the Ultimate Mountain Escape With Pinnacle Cabin Rentals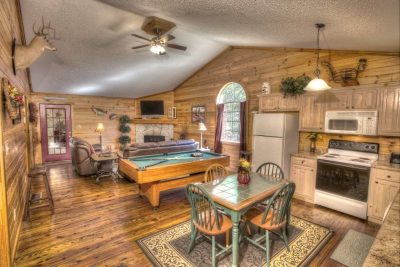 Helen, GA is a utopia for travelers looking to unplug from the day-to-day schedules and reconnect with their loved ones and the beauty of nature. We invite you to experience everything our one-of-a-kind destination has to offer by staying with us in one of our luxury vacation cabins!
Our beautiful rentals are perfect for family vacations and romantic escapes just minutes from the Bavarian village in downtown Helen. In addition to a one-of-a-kind cabin, guests will also be spoiled with unparalleled guest services and vacation specials you won't find anywhere else. Ready to embark on the best family getaway yet? Choose your favorite cabin with us today!