Trout fishing season in the North Georgia Mountains is almost upon us! This means that fishermen from all over the region will be flocking to Helen, GA to take advantage of all the incredible fishing opportunities that our destination has to offer. If you're planning your own fishing getaway in North Georgia, let us help you find the perfect accommodations! Pinnacle Cabin Rentals offers a wide variety of waterfront cabins rentals in Georgia, many of which will provide you with fantastic fishing opportunities right outside the front door. Pack your fishing poles and get ready to experience an unforgettable fishermen's escape at these fishing cabin rentals in GA.
After booking your favorite fishing cabin rentals in GA, don't forget to download your free copy of our Helen, GA Vacation Guide. This handy vacation planning tool will help you discover everything that our Bavarian-inspired village in the Blue Ridge Mountains has to offer. From local parks and hiking trails to dining and shopping, you'll find it all within the pages of this online guide.
The Most Beautiful Fishing Cabin Rentals in GA
1. Sautee Valley View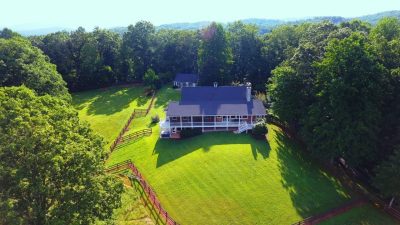 As one of Pinnacle Cabin Rentals' newest vacation rentals, Sautee Valley View has also become one of our most popular! The upscale country home features five cozy bedrooms, gorgeous views of the historic Sautee Valley and Lynch Mountain, and a wonderful combination of both old and new elements. Plus, if you're looking for a North Georgia cabin rental with a fishing pond, this is it! There is a small pond located right on the property so you won't have to go far to enjoy fantastic mountain fishing. When it's time to come in after a relaxing afternoon of casting the line, you'll be able to hear your family ring the vintage rope dinner bell from the home.
Book your fishing getaway in Sautee Valley View right now!
2. Adair Mill
This is one of the most unique waterfront cabin rentals in Georgia due to the fact that it is located right next to a historic grist mill! Overlooking Towns Creek, our Adair Mill rental provides spectacular trout fishing opportunities all season long! Guests will also be treated to a game room inside the grist mill, an oversized hot tub, four beautiful bedrooms, and lovely views of the creek.
Book your stay in the Adair Mill Cabin today!
3. Copper Canyon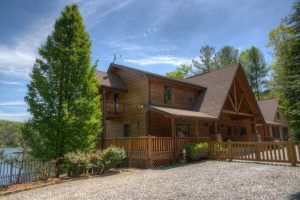 Copper Canyon is ideal for anglers looking for the perfect Blue Ridge fishing cabins. Why? It's located right on the shores of its own private lake! In addition to five cozy bedrooms, a fully equipped kitchen, and a gym, guests of this luxurious cabin will enjoy a private dock, a paddle boat, a kayak, tubes, and life jackets. During the winter months, there's nothing quite like relaxing on the dock and casting your line for your next big catch.
Book your next vacation to Copper Canyon today!
4. Helen River Haus
As one of our largest vacation cabins, Helen River Haus is also one of our most luxurious! Located right along the Chattahoochee River, one of Helen's top trout fishing locations, this vacation cabin is beautifully appointed and secluded without sacrificing convenience to your favorite local attractions. When you're not fishing in the river, be sure to indulge in the wide variety of amenities including the covered gazebo, pool table, entertainment area, and propane BBQ grill.
Book your stay in the Helen River Haus today!
5. FireFly Creek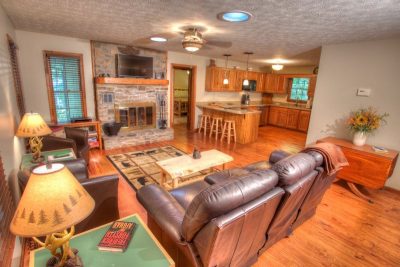 Located just minutes from Alpine Helen, FireFly Creek is a cozy three bedroom abode that fosters an atmosphere of charm, simplicity, and romance. Guests also love falling asleep and awakening to the gentle sound of the gurgling creek that runs right alongside the cabin! Although the creek does not offer ample fishing opportunities, this vacation rental is just a five-minute drive from Smithgall Woods State Park, one of Georgia's most renowned trout fishing destinations.
Book your relaxing escape to FireFly Creek now!
Experience Helen, GA During Your Stay With Pinnacle Cabin Rentals
Whether you're looking for the best fishing cabin rentals in GA or a cozy escape with spectacular mountain views, we've got you covered! Our vacation rentals not only provide you with ample space and amenities, but you will also enjoy unparalleled guest service and convenience to all there is to see and do in Helen, GA. It's everything you need and more for the vacation you'll be talking about for years to come.
Find your perfect cabin getaway today! We look forward to seeing you in the North Georgia Mountains soon.