North Georgia is home to many fascinating Appalachian-towns and destinations, not the least of which is Helen, GA! This charming mountain town is a re-creation of an authentic Bavarian village and boasts a wide variety of exciting attractions and outdoor activities. Thousands of visitors flock here every year to experience the stunning mountain views, challenging hiking trails, delicious wine tastings, and more. No wonder it's been recognized as one of the most visited destinations in Georgia! When you stay in our luxury Helen, GA cabin rentals, exploring the downtown area is a must, and for more reasons than just viewing the Bavarian-style architecture. Discover some of the best things to do in Downtown Helen, GA right now!
Find even more fun things to do in Downtown Helen, GA by requesting your free copy of our Vacation Guide! It's filled with all the best recommendations for local attractions, activities, dining, shopping, and more.
3 of the Most Fun Things to Do in Downtown Helen, GA
Shopping
Take a piece of Helen home with you! Unlike most destinations, Helen is void of the typical stores you'll see in the mall. Instead, you'll find a wide variety of boutique and antique shops that are unique to Helen. From locally produced crafts, souvenirs, candy, and gifts, you're sure to find the perfect memoir for your Helen, GA getaway. Here are just some of our favorites that we're sure you'll love!
Alpine Village Shoppes: Boasting German-inspired architecture and a variety of unique stores, this center is your one-stop-shop for everything you may need. From resale stores to restaurants, the Alpine Village Shoppes really has it all!
Nora Mill Granary and General Store: This granary is one of the few working grist mills in Georgia and is stocked with thousands of items that you'll hardly be able to resist! Particular favorites include freshly ground grits and cornmeal, jams, syrups, cast-iron skillets, and old-fashioned candles.
Old Sautee Store: Each product in the Old Sautee Store has been very carefully selected for uniqueness, quality, and affordability. Not only will you find great souvenirs, but you will also have the chance to buy time-tested merchandise and edible goods.
Dining
We hope you came hungry! With so many delightful Helen, GA restaurants to choose from, you'll hardly know where to start! In addition to delicious German cuisine (a tip of the hat to Helen's Bavarian theme), you'll also find steakhouses, lively taverns, quaint cafes, and much more. Here are some examples of the most popular downtown eateries!
Bodensee: They serve only the most delicious German delicacies for all kinds of tastes. From steaks, seafood, schnitzel, or vegetarian dishes, they have it all!
Cowboys and Angels: An incredible menu paired with warm Southern hospitality is what makes Cowboys and Angels a true delight to visit. They are committed to creating a fun and welcoming atmosphere for all of their guests.
Cafe International: Located right on the river, this German-style restaurant is a favorite for many visitors. They serve a wide variety of European-style sandwiches and dinner entrees. Its porch sits right above the Chattahoochee River so you and your family can wave to all the tubers floating by.
Local Events
No matter what time of year you visit, there is always something to celebrate in Helen, GA. In fact, Helen is home to the longest-running Oktoberfest celebration in America! With authentic Bavarian festivals, arts and craft shows, and even hot air balloon races, you won't want to miss a moment of these upcoming events!
Spring Bierfest (April): Oktoberfest cometh early! Visit us for this festive beer tasting event at the Helen, GA Festhalle! Visitors will be treated to a live German band, traditional dancing, and delicious food and beverages.
Bavarianfest (May): This fun-filled family event helps us honor our military and civil servants. Come show your support and join in the activities such as dancing, indulging in German food, tasting imported beers, and more.
Helen to the Atlantic Balloon Race (June): As the South's oldest balloon event, it is also one of Helen's most popular annual celebrations! See the ascension of 30 magnificent balloons as they take off a journey to "the edge of the Earth."
Helen, GA Oktoberfest (September-October): This Helen tradition is the longest-running Oktoberfest celebration in the nation. You absolutely must stop by for the dancing, music, brats, Lederhosen, and of course, plenty of beer to go around!
Your Next Getaway to Helen, GA Awaits With Pinnacle Cabin Rentals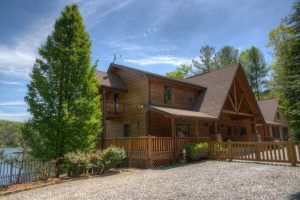 Say goodbye to the typical Helen, GA hotels experience and say hello to the vacation a lifetime! Our beautiful selection of mountain cabins is exactly what you need to accommodate the entire family comfortably in a memorable setting. In addition to luxury cabins, our guests are also treated to unparalleled guest services and convenience to all the best things to do in Helen, GA. You and your family will be talking about this getaway for years to come! Find your favorite cabin with us today and we look forward to welcoming you to the mountains soon!
If you haven't already, don't forget to download your free copy of our Helen, GA Vacation Guide! This handy planning tool will help you find everything you need to organize the perfect mountain getaway.
Photo Credit: SeanPavonePhoto/Getty Images